Meet Greg Litten, Visual Information Specialist at Redwood National and State Parks
For Greg Litten, his job as Visual Information Specialist for Redwood National and State Parks is not just a job – it's a calling. "I was 22 years old when I left New Zealand, headed for the western United States – I just wanted to work in the outdoors. I was lucky enough to start off at the Grand Canyon, and my very, very first experience with the park employees was positive. I saw a park ranger giving an educational program – a geology talk – and I was hooked." Now a National Park Service employee himself, Litten still finds inspiration in the group of dedicated people who maintain and preserve our parks. "All these years later, it's still true that the park service people I work with are the best. They care about what they do, they're very much mission-driven, and I think they are the best public servants you could ever imagine."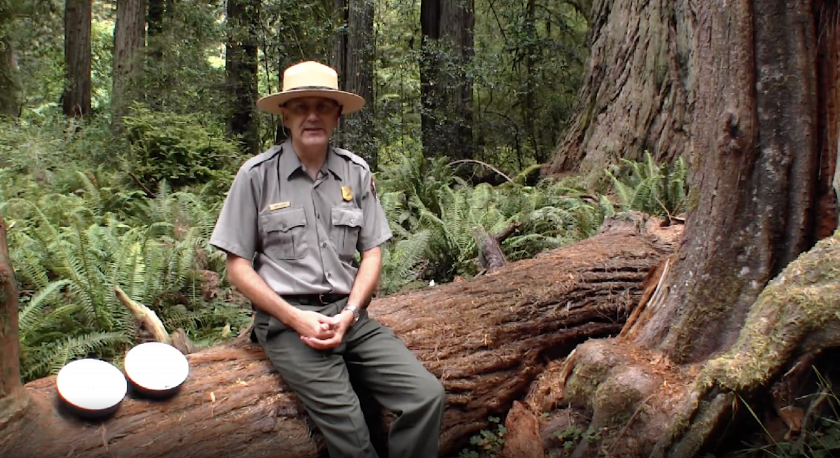 22 years later and now working at his seventh park in the National Park System, Litten's focus is on developing materials for publications and social media platforms that inform and connect visitors to the parks through stories and facts, as well as emphasizing the significance of the parks. "I use words, technology, and graphics to connect the whole world to the park and try to build public stewardship and park support that way. It's a different way to make a difference. My job is to save the world, and save the planet, just using words and graphics." 
Before coming to the Redwoods, Litten's time with the National Park Service included everything from fee-collecting and issuing backcountry permits to serving as an EMT and Firefighter. He's also led hikes, educational tours, and ranger-led programs in parks coast-to-coast. "I think the thing that makes my job special as a park educator – whether I'm working the frontline, face to face with people, or in my current job behind the scenes, with social media and exhibits – is that we are connecting people to these unique and special American places. National parks, they don't have to be these amazing places of natural beauty, they can have really important cultural and historical stories to tell. National parks can kind of tell the story of America, for good and for bad. National parks tell stories about terrorism, about war, about violence, about humanity, about hope, about love, and about life. And a park interpreter, a park educator, has an amazing opportunity and responsibility to share that knowledge with a wide range of people that come to these parks."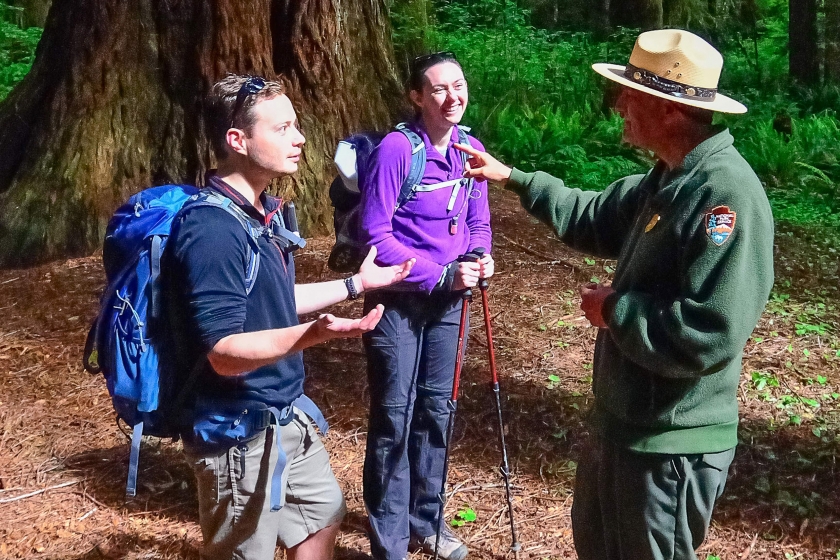 As a National Park Service employee, Litten seeks to bring the same sense of wonder and comradery he felt all those years ago to park visitors today. "I encourage and hope everyone gets to find your park. It doesn't have to be a national park, it could be any green place, any open space that's nearby. The outdoors is really important – it's good for our heart, it's good for our mind, it's good for our soul. These national parks are yours, protected for the future generations, and I love being a part of that." 
If you're heading to Redwoods National and State Parks, Litten suggests taking the time to hike the Trillium Falls Trail. "It's got big old-growth redwood trees, a small waterfall, gentle climbs, and the chance of seeing some large wildlife like elk or bears. It's an hour of walking joy." Just make sure to check the park's website, filled with other tips from Litten, before heading out to things like avoid crowded parking lots. 
---
Behind every national park is a team of ordinary people dedicated to maintaining the extraordinary. They maintain habitats, educate visitors, and preserve history. They're volunteers, rangers, museum curators, engineers, architects, and more. They're our Park Ambassadors – linking us to these treasured places and all the stories they hold. Send thanks to an NPS employee or volunteer today. 
The "National Park Ambassadors" video series is produced by the National Park Foundation and its Find Your Park premier partners Budweiser, HanesBrands, L.L.Bean, Nature Valley, Subaru of America and Union Pacific Railroad, with additional support from The Coca-Cola Company and Winnebago Industries.